Packing Service, Inc. is your one stop shop for all of your packing and moving needs. It may seem like a simple task but anyone who has been through a move knows that Packing Boxes is an arduous process whether you do it yourself or hire movers. Packing items yourself saves money but the amount of time sifting through all of your valuables and making sure they are protected can be enormous not to mention stressful. Local moving companies that promise they can pack and ship your valuables for a fair price will try every trick in the book to scam you out of your hard-earned cash. Place your trust in the professionals at Packing Service, Inc. when it comes to packing boxes and wrapping furniture.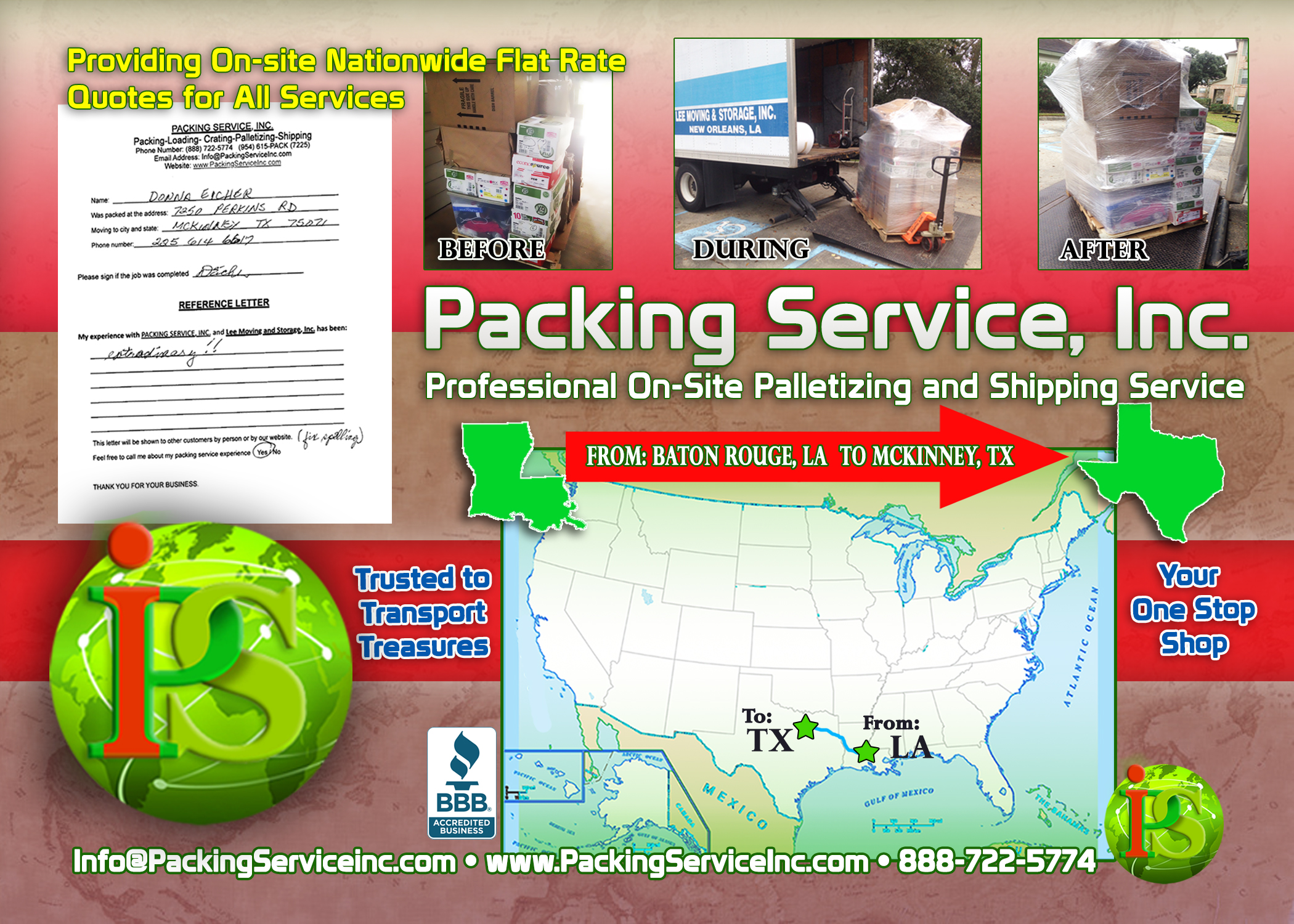 Packing and Moving in an efficient manner takes a lot more planning, coordination, and effort than people realize. That's why Packing Service, Inc. only hires employees with more than one year of experience in the industry. Our customers are always pleasantly surprised at how easy and quick our professionals make packing boxes look. As a company that offers moving and shipping solutions, we can also pack and ship your items to your desired destination, all backed by a free flat rate quote. Packing Service, Inc. makes packing and moving easy like a Sunday morning.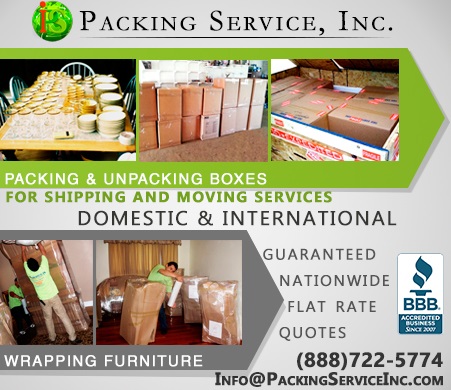 Our professional movers have a tons of experience packing boxes and will handle all of your valuables delicately so their transit is as safe as possible. Every job we undertake requires a picture or a list of the items you need packed. Packing Service, Inc. will then provide a free flat rate quote so you know how much it will cost to Pack and Ship your items. Fragile valuables that require extra protection are handled with the utmost care during the packing and moving procedure. We wrap items like plates, glassware, fine china, stemware, paintings, mirrors, glass tables, lamps, and antique furniture so that your goods aren't damaged. When it comes to your big move, trust the professionals at Packing Service, Inc. to pack and ship your valuables.
FAQs
Do you work with insurance companies?
Yes, your goods are insured at a rate of $0.60 per pound. However, if you need a higher insurance rate, feel free to let us know before you request a flat rate quote and we will be happy to provide the necessary coverage.
Do you have a minimum or maximum size job?
No, we have no minimum or maximum sizes for our jobs. You can enjoy our professional moving services if you have a massive office that is relocating to a new state across the country or if have a small studio apartment that you need packed and moved across town.