Of the services that most companies in the shipping and packing industry supply, palletization is one the most crucial. Palletizing your goods places them on a wooden pallet and then they are safely secured and wrapped with a film. This film, known as shrink wrap, protects the goods from sand, dust, water, and other particles that can warp or damage items during transit, which makes palletizing a key process for shipping. Palletizing services are designed for shipping goods long-distance as they are only handled by machinery like forklifts or specialized equipment like pallet jacks. Packing Service, Inc. is a palletizing company at the forefront of the industry. We offer numerous services all backed by a guaranteed flat rate quote.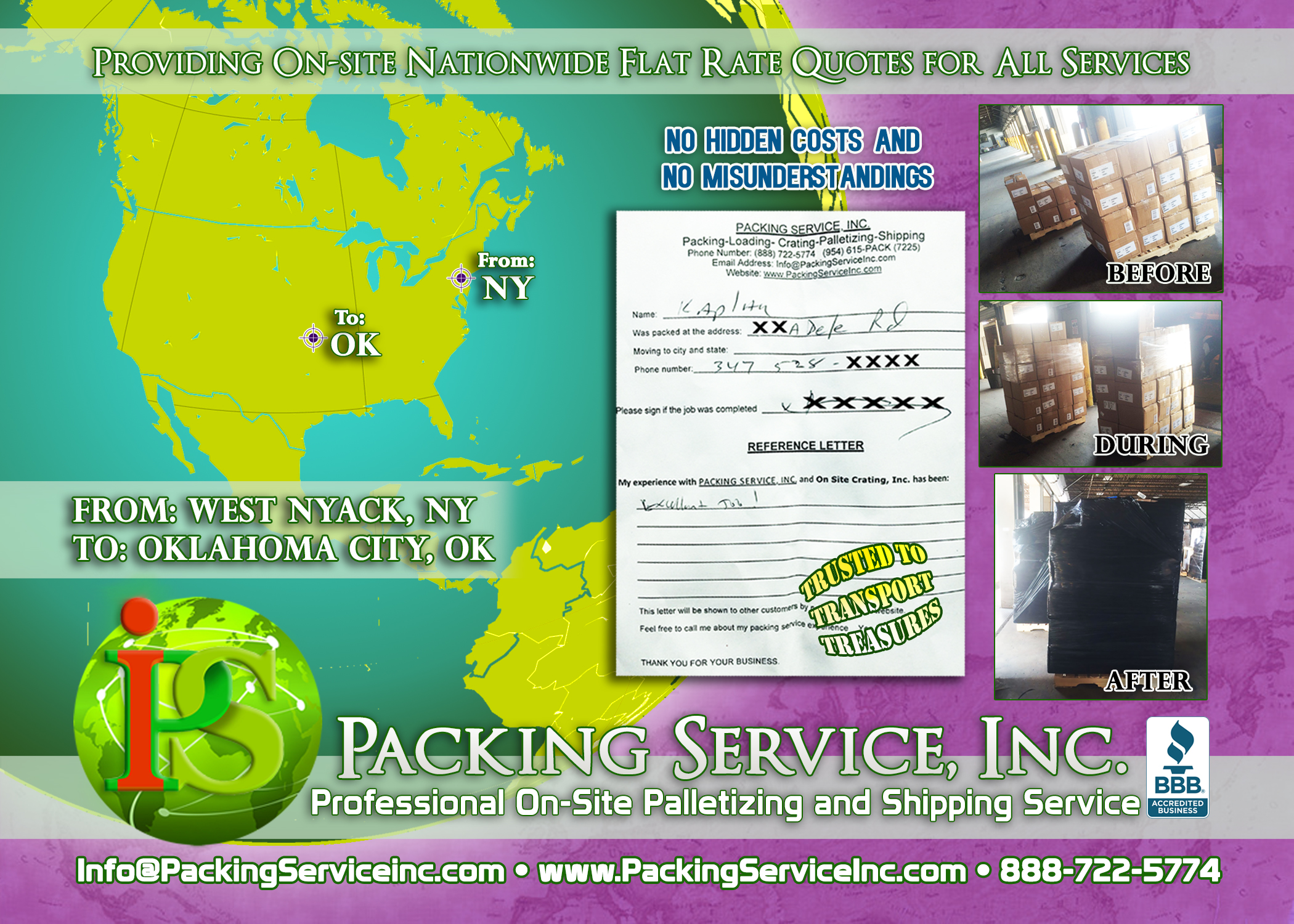 Packing for a move is pretty simple if you aren't traveling far between new places. However, what if your new house or apartment is in another state or in another country? You very well can't bring all your items on a plane and shipping with conventional companies like UPS and Fed Ex can be pretty pricey. Thankfully, Packing Service, Inc. offers Palletizing Services that ensure the safety of your items and prepare them for the rigors of shipping. As a professional palletizing company, our employees have more than a year of experience in the industry, so they know the best methods for palletizing. They'll wrap your furniture, boxes, electronics, or office equipment tightly during the palletizing process and even handle the shipping.  Palletizing services are one of the chief methods of packing that we specialize in.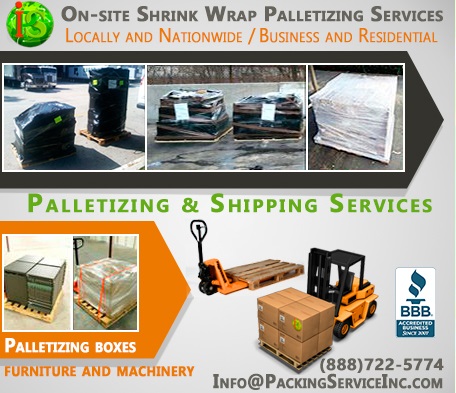 Most of the goods that are shipped for commercial services are handled by a Palletizing Company. Why shouldn't your valuables have the same level of protection that companies like Best Buy enjoy? Packing Service, Inc. offers palletizing services that are affordable, efficient, and professional. We are a palletizing company that offers a range of services and also ship both locally, nationally, and internationally.
FAQS
Why do you need me to send in pictures or a list of my items before I can get a flat rate quote?
We always ask that our customers send in pictures and/or a list of items to be palletized so that our quotes are accurate. Once we have an idea of how many materials we need or how much time the job will take then we can generate a flat rate quote that won't change.
What's the difference between a flat rate quote and an estimate? What's included in the flat rate quote?
An estimate is a random price that is used to entice a customer to sign a contract. Once the contract is signed, moving companies have a slew of shady tricks to increase the actual cost of the job. A flat rate quote is a price that won't change during a job.