A pallet, sometimes inaccurately called a skid (a skid has no bottom deck boards), is a flat transport structure that supports goods in a stable fashion while being lifted by a forklift, pallet jack, front loader, work saver, or other jacking device, or a crane. A pallet is the structural foundation of a unit load which allows handling and storage efficiency. Goods or shipping containers are often placed on a pallet secured with strapping, stretch wrap or shrink wrap and shipped. Since its invention in the twentieth century, its use has dramatically supplanted older forms of crating like the wooden box and the wooden barrel, as it works well with modern packaging like cardboard boxes and Intermodal containers commonly used for bulk shipping. While most pallets are wooden, pallets can also be made of plastic, metal, paper, and recycled materials. Pallets make it easier to move heavy stacks. Loads with pallets under them can be hauled by forklift trucks of different sizes, or even by hand-pumped and hand-drawn pallet jacks. Movement is easy on a wide, strong, flat floor.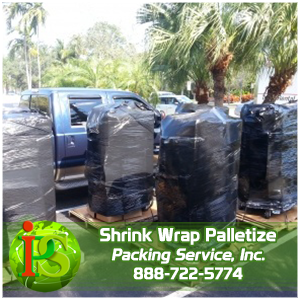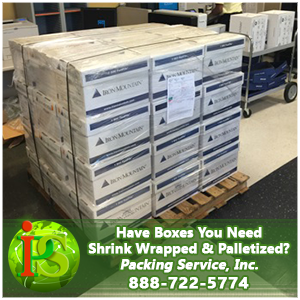 While trying to palletize, the following aspects are noted:

*The piling of the consignments on the pallet board needs to be spread even. This makes it easy while loading and unloading the consignments

*Pallet cargo ships also need to be tagged so as to enable easy identification and marking

*After the palletizing process is complete, it's also necessary to enfold the whole palletized consignment with an appropriate wrapping material.

As compared to non-palletized dispatching of cargo consignments, pallet shipping is costlier. However their cost-effectiveness by effectively minimizing the potential risks and damages to the consignments makes the pallet cargo ships a must-have in the shipping cargo dispatching domain. The use of pallets greatly depends on the type of cargo that is to be transported.
Packing Service, Inc. (PSI) has been a leading professional shrink-wrapping and Palletizing Company since 2003, with over 12 years experience and a 97% customer satisfaction rate. We at PSI pride ourselves in being members of the Better Business Bureau since 2007. Each and every one of our palletizing crew must have experience providing shrink-wrapping and palletizing services for at least one year before they can work with our company. We are professionals and we will only work with other professionals who are serious about offering only the best in shrink wrapping and palletizing services nationwide. Whether you require us to palletize boxes, palletize machinery, or palletize furniture, our team of professionals can handle any job and any size item, in a fraction of the time it will take those other guys. We only use quality wooden pallets, built strong and for the purpose of either domestic or international Shipping Services. We will never provide you an estimate that will fluctuate. Call or email us for a flat rate quote- (888) 722-5774, Info@PackingServiceInc.com