Packing Service, Inc. is the leader in Packing and Shipping Services nationwide. We have been providing White Glove Moving Services including packing services, loading and unloading (Lumper) for PODS containers and trucks, custom wooden crating, shrink wrapping, and palletizing services since 2003. Our attention to detail, reliability, efficiency and professionalism has set us apart from other companies. Thanks to our strong commitment to our clients, we have proudly achieved a 97% customer satisfaction rate and have been members of the Better Business Bureau since 2007. Packing Service, Inc. offers all our services across one company-wide umbrella, saving you time, money and stress. Unlike other packing and shipping companies, we only offer Guaranteed Flat Rate Quotes which won't change or fluctuate.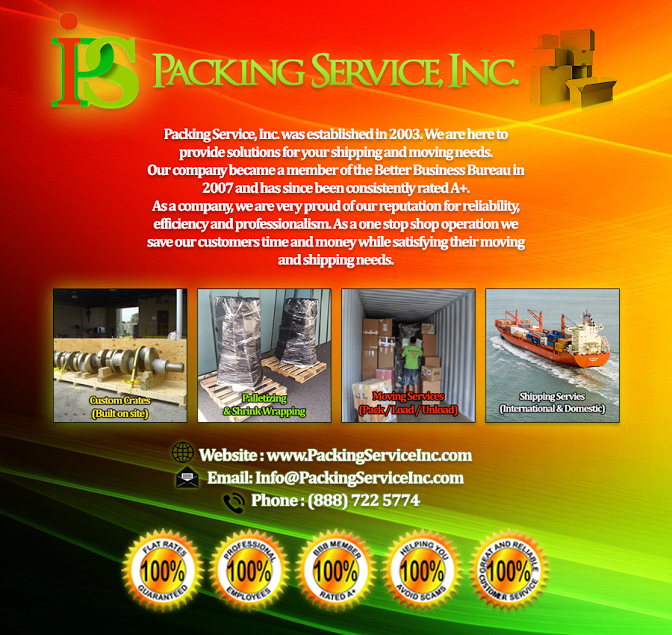 Packing Service, Inc. uses only top quality packing and shipping materials as well as the necessary equipment to protect fragile items, boxes, furniture and machinery. No job is too big or too small and we also do last-minute jobs, both Residential and Commercial. We hire only professional employees and companies so you can rest assured that you are dealing with seasoned professionals who truly care about their customers. As our company prides itself of our white glove moving services , we will treat your belongings as if they were our own.

Packing Service, Inc. has logistics services in three core areas:
Shipping Services: are when you need to transport boxes, select pieces of furniture (small quantity), machinery or equipment palletized or in custom wooden crates from one location to any destination worldwide.
Moving Services: are when you need to transport household goods in large quantities in the same truck/container from one location to any destination worldwide.
Moving Services (Packing / Unpacking Boxes, Wrapping Furniture, Loading / Unloading (Lumper) Rental Trucks, PODS Containers and/or trailers for Local, Long Distance or International Transport)
If you're moving to a new home we recommend our Packing and Loading PODS Containers or Rental Trucks services which are encompassed in our Pack and Load Services. Our Professional Packers and Loaders offer first-class services and personalized customer care for all your local and long distance moves. Whether you need us to pack your boxes, wrap your furniture, or load PODS containers or Rental Trucks, Packing Service, Inc. will professionally handle all your packing and shipping needs nationwide, with safety and security, to give our clients good peace of mind and a hassle-free move.
Shipping Services (Packing and Crating for Nationwide or International Shipping)
Packing Service, Inc. will send our skilled professionals to pack and crate your items on-site and prepare them for shipping to their destination with our pack and ship service. Being a professional Crating Services Company, we have all the essential expertise when shipping objects such as industrial machinery, delicate electronics, bulky furniture, or any other large or valuable items. Our skilled packers and craters build custom crates from high-quality materials that are made-to-measure for the safety of your items. These are one-off wooden crates, completely customized for each individual item(s) and are then sealed against the elements. Our Custom Wooden Crates allow our packers and loaders to organize everything on-site and provide the necessary protection of your articles. These services are always covered by guaranteed flat rate quotes. The only information we require is: your location, size / weight of your item(s) and the destination (domestic or international) you will be shipping to.
Shipping Services (Packing Boxes, Wrapping furniture and Machinery, Shrink Wrap Palletizing for Nationwide or International Shipping)
Our Palletizing and shrink wrapping services will provide protection and keep items together as one load. We recognize that shipping items one at a time and mixing your items greatly increases the risk of loss or damages. With our shrink wrapping and palletizing system policies, your items are only shipped by forklift or pallet jack, and are non-stackable during shipping to their set worldwide destinations. Packing Service, Inc.'s professional packing and shipping services will protect and monitor your valuables methodically with shipment tracking available from pick up to delivery for our client's peace of mind. Our professional staff always provides quality customization and care in shipping. If you can think it, we can ship it!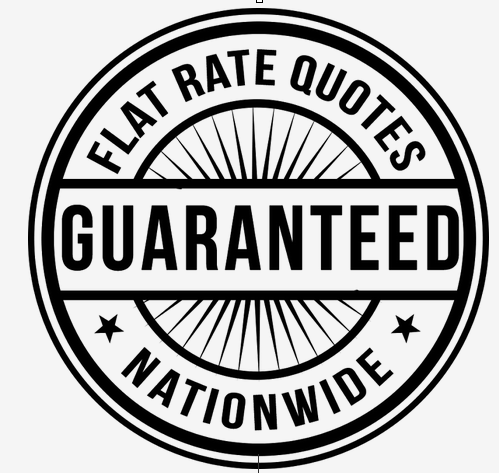 Get Guaranteed Flat Rate Quotes with no hidden costs, no extra charges and no misunderstandings whatsoever and let us help you solve your needs in as little as 60 seconds 888-722-5774, or E-mail us your information with sizes, weight, list of items, zip code, name and your phone number to Info@PackingServiceInc.com
Save