Moving out an old abode into a new? Found a new office for your business? Transporting essential equipment back and forth? No matter the case, you need to make sure that your furniture, machinery, electronics and more moves with you safe and sound. But who are you to trust? How can you safely carry your stuff to your new destination? You might want Nationwide Shipping, and need someone specialized in Shrink Wrap Palletizing to better secure belongings. This is where Packing Service, Inc. comes into play. As a Packing and Shipping company, we are accustomed to making big moves all around the world. Ever since 2003, we're an A+ member of the Better Business Bureau, leaving our customers satisfied every time.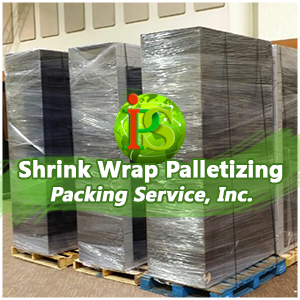 Nationwide Shipping is crucial if we're talking about the U.S. How far is your cargo going? How big? How tall? When do you need it? These are imperative questions that we need to ask in order for you to get the best service. Our professionals can do just about any job and item thrown their way. All of your stuff is placed on our quality wooden pallets built for the purpose of international shipping. From there, we move on to our most renowned service – Shrink Wrap Palletizing. This is, without a doubt, the most safe and secure way for your cargo to travel. Our methods of wrapping is just as top-grade as our service as a Packing and Shipping company. On top of the pallet, the strongest and heaviest items are stored on the bottom, going taller as possible. Strapping your items to the pallet, we make sure that the wrap grabs the pallet on all sides. Up to four layers of shrink wrap are added for support and safety, Packing and Shipping your stuff safely as the make their way around the world. Our professional packers and movers make use of this Shrink Wrap Palletizing on-site, making sure that you know how your valuable are ready for Nationwide Shipping.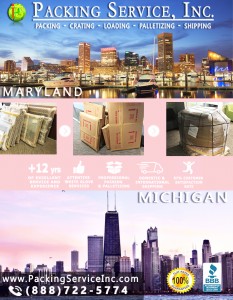 Moreover, no matter International or Nationwide Shipping, Packing Service, Inc. won't let you down. We're the Packing and Shipping company you trust when it comes to Shrink Wrap Palletizing all of your belongings for travel. With strong experience, powerful professionals, and a strong sense of integrity, there's no one better.