Sometimes, you just want to move far or not away at all. You've already packed your boxes and suitcases full of stuff; All of your furniture is shrink-wrapped to perfection. You've spent hours upon hours planning how to move all of your valuables out safe and sound. Now comes the harder part – actually moving it to their new destination! You need a company with excellent shipping services, made even sweeter if they pride themselves on Nationwide Shipping. For any move, you need not look further then Packing Service, Inc. Providing excellent crate and ship services since 2003, we're experts on how to move out in the safest and efficient manner possible.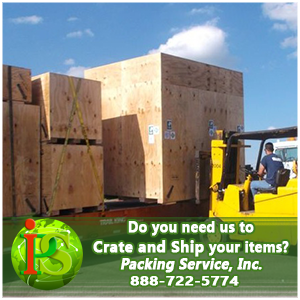 From boxes to heavy machinery, we'll crate and ship your stuff no matter the size or height. We step out from the crowd with our excellent flat rate quotes. While the competition might promise low prices that turn into costs that burn your wallet, these quotes make sure that you've moving out at a reasonable cost. We evaluate the weight, height, and it's requested destination to accurately set up a plan of action to deliver your stuff to trusted services such as FedEx, DHL and much more. Our Shipping Services has earned us our 97% Customer Satisfaction Rating, as our clients leave us with a smile every time. As an American company, You might move from sporty California to sunny Florida; icy Maine to Texas. No matter the locale, you can count on us for the best nationwide shipping. Packing Service, Inc. has your back no matter the reason for your big move. Have a business and wish to ship equipment to a new branch or location. Say no more.We will crate and ship this stuff on-site and to the upmost professionalism. Your valuables are important.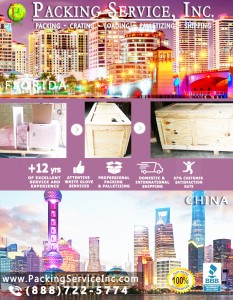 Whether it be pass down by family or friends, being staples of your business from its early days, or a simple memento that lasts with you forever, we Packing Service, Inc. views your stuff are our stuff. With our shipping services, moving just got easier. No worries about hidden costs, mix-ups, easy mistakes, and late time changes when we crate and ship your stuff to their new home. Nationwide shipping is just one of the amazing services we provide. Our shipping services can't be beat anywhere else, and we make sure that your stuff gets to the right destination. There's no other that crates and ships as good as we do. Thinking of moving? Move with Packing Service, Inc.