Do you have plans for shipping your products internationally?
There are so many things you must consider, from custom regulations of your destination countries to the costs and time of delivery.
In this informative piece, we cherry-picked the most important factors that you must thoughtfully consider before shipping your products abroad. Check them out!
Custom Rules and Regulations
Before you make plans to ship your products abroad, the very first thing you must thoughtfully research is the custom regulations of your destination country. Any product shipped internationally must go through customs clearance no matter the mode of shipment.
Thus, you will have to go through and fill out the necessary custom forms from your home country and the country you wish to deliver your product. You should also check for other paper works which you must fill before you ship your product.
Shipping Cost
The next factor you must consider is the shipping costs for shipping your product to your destination country.  Shipping tariff includes all the charges from the shipping company and other additional product taxes depending on the products you intend to ship. To get the best shipping rates, you should check out various professional shipping companies.
You should note that professional shipping companies that ship to a particular country will have different tariff rates when compared to professional shipping companies that offer worldwide shipment.
Expected Time of Delivery
Before you agree to use the shipping services of a shipping company, you must find out your product's time of transit and the scheduled time of delivery to your destination.  A professional shipping company will list this information in their shipping services to help you plan your shipment correctly. However, for products shipped internationally, you should expect delays in the arrival of your shipment.
Most shipping services do not offer the option for overnight delivery and may depend on the item you intend to send.  The custom clearance may take up some time to successfully clear your, so it's best you factor in all these before you crate and ship your product.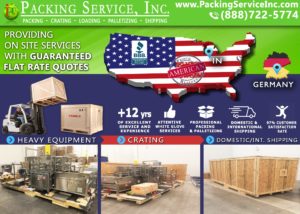 Mode of packaging
Before you crate and ship your product, you should consider the mode of packaging you intend to use and send your product.  You could either handle the packing of your product yourself or hire a professional shipping company to help with the process of packaging your products, depending on the country of delivery.
A professional shipping company that handles the packaging will ensure your products are meticulously packed and clearly labeled to ensure smooth delivery to its destination.
Medium of Shipment
Your intended medium of transporting your product is another factor you must consider before you decide to crate and ship your product. The factors that should determine your choice of transportation are the nature of your product, the cost and your expected time of delivery.
Air freights are very expensive but very effective and the fastest method of shipment. Sea freights are less expensive but take up more time while sea shipment can only work for products that can endure long trips in cargo containers.
Insurance
Insurance is another major factor that could undermine your shipment. International shipments of products are usually associated with a high risk of damages and even the misplacement of products. You should either ensure your products or ship them with a shipping company that is covered by insurance.
Bottom Line
The following tips will help you send your products abroad without any hassle. Always ensure to use the shipping services of professional shipping companies for a smooth, seamless process.