Are you looking to expand your business and ship products to international customers? Come on board as we take you through how to pick out the right shipping services for your business.
With hundreds of shipping company available today, you could make the wrong choice if you are not rightly guided on how to select the best shipping services for your business, you may end up making costly mistakes.
In this educative piece, we will take you through 5 crucial factors you must consider before taking up the services of a shipping company. Check them out!
Bond and License
Your choice of shipping company must have the right permission and bond to operate effectively.  A company's claim of top-notch customer services can only be valid when such company is bonded.
Also, your choice of shipping company, no matter its cheap pallet shopping cost, must be licensed by the requisite shipping license authority like the maritime cargo authority.
Method of Delivery
Another factor you should thoughtfully consider is the method of delivery offered by the shipping company. Shipping companies' delivery their freights by truck, ship, or air.
The method of delivery ultimately determines the speed which your consignment will reach its destination. Your products will land its destination in a couple of days when you use air freight, but when you use truck or ship freight, it could take weeks or even months.
You should thoughtfully consider the products you deal with, to help you make the right choice when choosing a freight plan.  If you trade on perishable goods like fresh food and flowers, you should go for the air freight plan.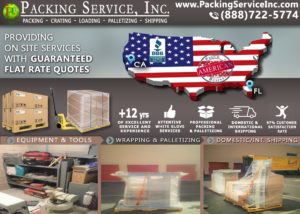 Aside from license and mode of transportation, another factor you should consider before signing up with a shipping company is the pallet shipping costs. Although you should note that your choice of delivery method will influence the shipping rates and costs.
Air freights are faster but costs more than any other delivery method.   So before you set out to sign for a shipping agency, you should check your budget to find a delivery package that meets your business needs.
You should ask your preferred shipping agency to give you a flat rate pallet shipping discount if you are going to use them regularly for a very long time. The flat rate pallet shipping discount will earn you good savings in the long run.
The Nature of Your Products
The kind of products you intend to ship plays a significant role in determining your choice of a shipping company. If you deal in products that are fragile to handle or dangerous, you need to find a freight company that has good experience with shipping and handling such products.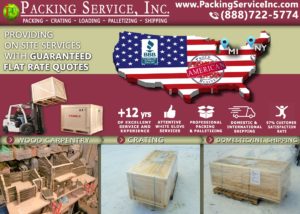 The company should be in the business of palletizing and crating such products for a very long time. You can then trust them to carry on the palletizing and crating your products.
Insurance
Before you sign-up with any shipping company, you should think about the risks involved when your goods are on transit. You could incur extra pallet shipping cost when your products get lost or damaged.
Thus, it's imperative you use a freight company that has a functional insurance policy to compensate you when you run into any loss. Do not opt for a cheaper pallet shipping cost that is not insured, if you deal with expensive products.
Bottom Line
Ensure to thoughtfully consider the following factors before you sign a flat rate pallet shipping contract with any freight company. Good luck!